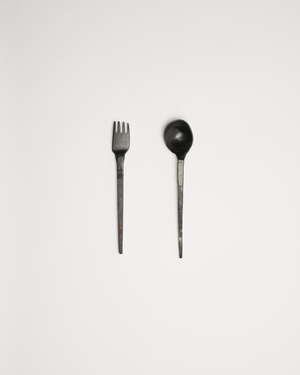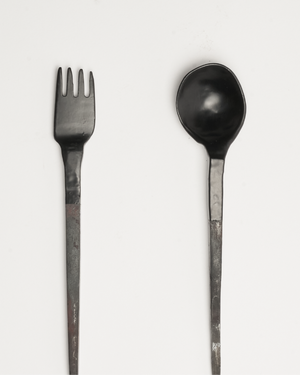 Fork & Spoon Set (Black) 1
Black Iron with Black Food Grade Powder Coating
Fork - 17 cm
Spoon - 18 cm
*Each items has been created with hand finishing and all pieces express their uniqueness of character through use.
*All items are handmade, so the actual pieces may vary slightly in colour and size from the measurement shown.
The proliferation of manufactured goods in contemporary culture and consumerism fuse Carson Terry's interest in inquiring the shift from the unique continuity and legacy of hand-crafted objects to the disconnected disposability of mass-produced products. Grounded on the exploration with the malleability of metal, Terry invites the audience to an alternative understanding on the notion of practical permanence by forging practical objects such as forks, spoons, combs and salt and pepper shakers. Through rendering the kind of texture and professionalism of blacksmithing in common wares, Terry seeks to recreate common wares that depart from the perception of expendables and carry a solid value of permanent utility. By creating art and design pieces that are sturdy and sustainable, Terry counters the consumer culture of displacement with an engagement with resources.