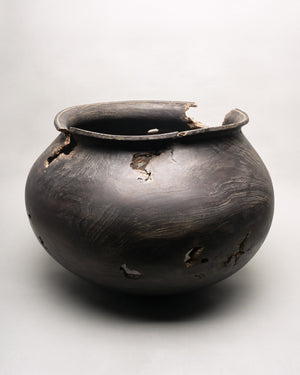 Camphor Tree Vase
H 550 x W 360 mm
Unique work
*All items are handmade, so the actual pieces may vary slightly in color and size from the measurement shown online.
Hiroto Nakanishi was born in Nagoya, Aichi Prefecture. After honing his skills of woodwork and furniture making, he set up his own atelier in 2008. Since then, he has continuously crafted wood works, developing insights into each piece of wood. He began holding various exhibitions, especially solo ones, in 2010. In Autumn of 2011, he relocated his atelier to Shiga Prefecture.
In Japan, aged, giant trees are regarded as sacred because people have long believed spirits of deities reside in those trees. This tradition has something to do with some sacred trees being embraced by many shrines as the object of worship. "A sculptor of Buddhist statues, called busshi in Japanese, unearths a buried Buddha which already dwells in a tree, rather than shaping the tree into your ideal form as common sculptors do. What busshi sculptors have to do is to simply pare away excess wood stuck to an image of Buddha," according to Horin MATSUHISA (1901 – September 1, 1987), who was also a busshi. 
Nakanishi's wood carving process is quite unusual. It starts with discovering something in wood, rather than conceiving an image of an item, such as a flower vase. This process sometimes takes several years. He doesn't search for materials to achieve his purpose. He learns what he could craft from materials he encounters. Nakanishi found himself losing interest in neatly arranged, ready-made timber in shops, which is easy to manage and excellent for woodworking. He abandoned his convenient urban life and eventually decided to relocate his atelier to a suburb in Shiga prefecture (wel-known as the largest lake in Japan), which gives him abundant opportunities to encounter unique trees.  
In Japan, entering a forest to source wood without permission is prohibited. As most forests are owned publicly or privately and managed by forestry associations, people caught logging without approval are charged with theft. However, trees in forests are prone to fall due to frequent typhoons and torrential rainfall. In such a case, Nakanishi, with a chain saw in his hand, joins in forest maintenance and works with local people. He believes it is his duty as a community member to maintain the environment. Among felled trees, only "healthy" wood is taken by timber dealers while decayed pieces are left behind. These odd pieces of timber, labeled valueless and excluded from commercial activity though, capture this unique wood sculptor. Nakanishi embraces cracks and rotten parts of wood as its charm and character.