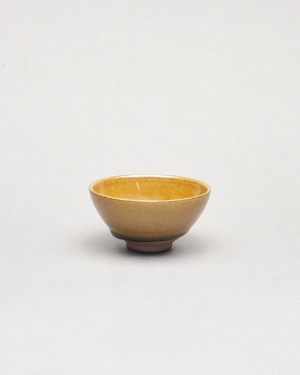 Archaise Tea Vessel - Tea cup - Greenish Brown
Ceramic 
Unique work
During the Song and Yuan dynasties, Jiàn Zhǎn (建盞) located in northern Fujian is among the eight famous kilns in China. The pottery with its black, deep colour and peculiar texture, achieved high prestige in the Song dynasty, especially among Buddhist monks and in relation to tea-drinking.

Zhao Zhao, the founder of Qiong Jiu Tang (穹究堂) has been researching Jiàn Zhǎn for over a decade. Most of his time has been spent on ceramic fragments that were flawed in the firing process, damaged during use, or what became the ravages of war. One's trash but a huge treasure for the research process, about 300,000 specimens were reviewed.


Compared to subjective views on glaze and current speculation on period aesthetics, there is a knowing truth in an objective firing system which informs design sophistication in each shape.