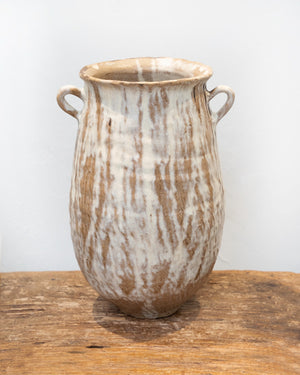 Vase 2
W28 x H42 x D23 cm
On 24th March 2023, a 24-hour pottery session by Karena Lam took place at SIDE SPACE. The artist brought clay, sculpting and firing tools for the open studio. She started moulding the clay and used firing during the process. This allows the clay to hold and further develop into a finished shape.

The open studio presented the early stage of the pottery process to the public. In which, they were invited to look, feel and interact with the artist. Starting at noon, the open studio had attracted residents in the neighbourhood and caught the attention of the passerby. This shared experience had become part of the process and left its mark on the outcome.

At the end of the open studio, the artist finished seven vases and took all of them to her studio for firing. Due to the very nature of uncertainty, only three out of seven vases survived the final firing process. Varied in sizes, the displayed vases come in an unglazed, coarse surface, showing the touch of hands by the artist. While the exchange had come to an end, the memories shall last as the pottery came to life.

*A portion of the proceeds will be donated to charity.