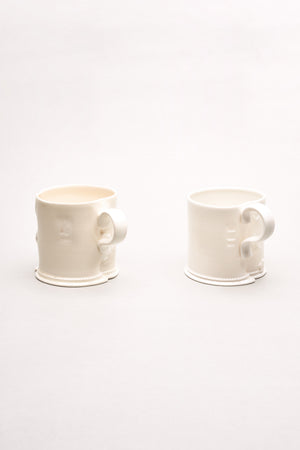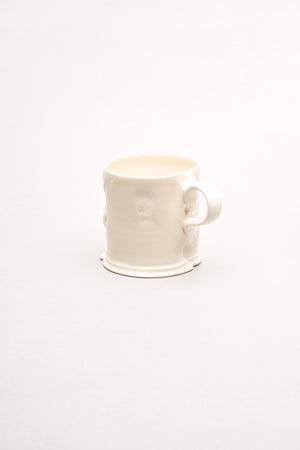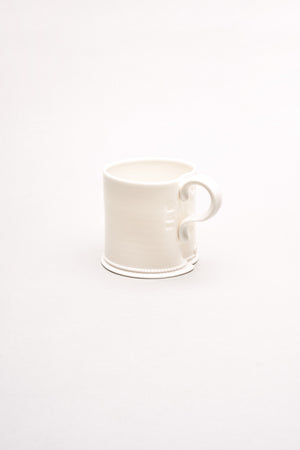 Plain Mug Set
Plain Mug set
Earthenware mug
Earthenware with no slip and transparent glaze - electric fired
Unique work
Porcelain mug
Porcelain with no slip - Gas salt glazed fired
Unique work
"The 

search

 for 

everything

 

began

 as a 

literal

 

exploration

 of 

variations

 on the 

idea

 of a mug cup. Over time, I have come to understand that what I was looking for cannot be found in the differing physical details of any particular cup. 

Everything

 of who I am is in each cup I make."
Steve Harrison
Technical Note

There are a few different types of clay that fall into the category of earthenware; red terracotta and several other naturally occurring clays that vary in colour from pale yellows to whites. The most significant aspect of earthenware clay is that it remains porous when it is fired, relying totally on the glaze to make it both functional and impervious to water. The maximum firing temperature of the glaze firing ranges from 1060℃ to 1160℃. Because there is no vitrification between body and glaze, objects made in this way are more fragile than stoneware and porcelain. One advantage of using earthenware is it is possible to obtain a much more vibrant and brighter colour range, as lots of colours burn out above 1100℃.
*Each items has been created with hand finishing and all pieces express their uniqueness of character through use.
*All items are handmade, so the actual pieces may vary slightly in color and size from the measurement shown online.